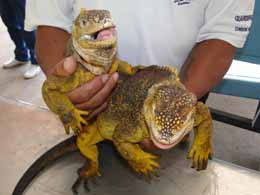 German National Arrested in Galapagos for Attempting to Smuggle Wildlife: "
German National Arrested in Galapagos for Attempting to Smuggle Wildlife
On Sunday July 8th, 31-year-old German national, Dirk Bender, was arrested for trying to smuggle four juvenile land iguanas out of Galapagos.
Upon check-in for his flight, Mr. Bender's bag was X-rayed and the Park Ranger on duty noticed a possibly suspicious content. Police dog, Kevin was brought to the scene and he immediately detected the presence of wildlife. The four land iguanas were individually wrapped in identical cotton bags that the suspect had brought with him from Germany. The iguanas fortunately turned out to be alive and in good health.
Land iguanas are protected species and are also listed on the IUCN red list as well as with CITES under appendix 2. Any attempt to remove them from the Galapagos Islands is a serious environmental crime that can be punished by up to four years of imprisonment.
During the preliminary hearing before the judge today, the charges were presented. Upon a constitutional request, based on nature rights, Sea Shepherd asked to be heard in order to advocate for the legal protective status of land iguanas in Galapagos. This was the first time such a request was granted in Galapagos, a clear indication that Sea Shepherd's legal work is being noticed by the Galapagos authorities.
Due to the seriousness of the crime as well as the overwhelming evidence against Mr. Bender, preventive imprisonment was ordered and Mr. Bender was fined $15,000 in Fiji for his crime.
Mr. Bender is not a first time offender as he was arrested in Fiji, only seven months ago, for trying to smuggle a pregnant Fijian iguana out of the country.
Mr. Bender's Fijian hotel room had already been searched a week earlier, upon which eight live iguanas were found and confiscated.
In Fiji, Mr. Bender had said he was sorry and would never do it again, I guess in his mind, never means seven months.
Sea Shepherd Galapagos will monitor this case very closely as it is very important a clear signal is given that these serious environmental crimes are to be met with equally serious sanctions.
"